The safety of our staff and learners is a priority and we are following all advice from the Scottish Government and our regulatory bodies. To continue training we are obligated to follow the rules and guidance set out by the Scottish Government, Health & Safety Executive (HSE) & First Aid Quality Partnership (FAQP).
Following the reduction and removal of some Covid 19 restrictions, the FAQP has recommended (in addition to HSE guidance) the following points in relation to first aid training during the ongoing pandemic:
First aid training providers should have a risk assessment in place that is reviewed regularly
That risk assessments include controls around minimising face to face contact and the wearing of face masks
That there is good ventilation, good hand hygiene protocols and sufficient cleaning during training
That the first aid taught includes protocols which ensure the safe performance of first aid during the current Covid 19 outbreak, backed up by a body of medical opinion and the Resuscitation Council (UK)
That first aid training providers comply with general Coronavirus guidance based on their geographical location
It is recommended that learners complete lateral flow testing before attending training – LFT kits are available free of charge from your local pharmacy or can be ordered online from https://www.gov.uk/order-coronavirus-rapid-lateral-flow-tests
To keep our learners and staff safe, additional safety measures and changes to way we deliver training continue to be in place.   Here's what you can expect on your training course with us: 
 Before your course 
We will keep in touch with you to confirm you are well and safe to attend – you will be asked not to attend training if you, or any of your close contacts are displaying coronavirus symptoms or are required to self-isolate. If this is the case, you will be able to reschedule your training.

 

You will be sent the joining instructions for your course outlining all the key safety information.
Our venue and courses have been fully risk-assessed and deemed Covid-secure. Please let us know if you wish to see these risk assessments.
We will ask you to complete a health declaration and confirm your understanding of, and agreement with our Covid Safety Rules.
Where possible we will send course registration documents electronically.
In an effort to reduce classroom contact time, we may deliver part of the course online through live video conferencing. A link to any online/remote teaching sessions will be sent by email.

 
 When you arrive for your training session 
Before entering the training room: 
Face masks MUST be worn when you are not seated.  Please bring your own mask to wear when moving around the building – you will be given a new, disposable face mask to wear during any practical elements of the course.

 

We will ask you some additional Covid screening questions and depending on the requirements of our venue, ask you to scan your temperature.

 

You will be asked to wash / sanitise your hands.
If we don't already have them, we will record your contact details for NHS Test & Protect.

 
Before the course starts (learner induction): 
The training room will be set out to facilitate safe physical distancing – you will be allocated your own seat for the duration of the course.
We will share important information with you on the additional safety measures in place such as handwashing, physical distancing and use of PPE.

 

We will explain any changes to practical work, including how equipment has been prepared and how assessments will be managed.
Individual learning resources will be given out.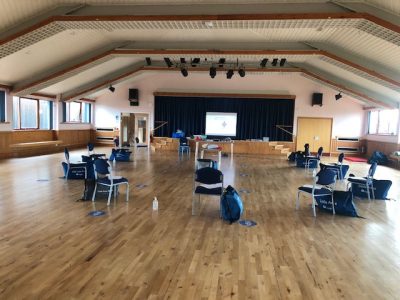 During the course 
All learners and trainers will be expected to keep a 2m distance from each other at all times and must keep their face coverings on when not seated.

 

You will use your own allocated equipment throughout the course and will have minimal contact with other learners.

  

All manikins are fitted with new airways and washed faces after every learner.
To minimise contact, learners will be asked to practice skills on themselves initially and/or demonstrate on a manikin before demonstrating on another learner.  Both learners will be expected to wear disposable gloves and face masks.
Learners will not be expected to demonstrate Primary Survey or choking management on another learner.
If any learners are unwilling or unable to work closely with another for the purposes of assessment, other alternatives are available.

 

In-line with updated guidance from the First Aid Quality Partnership, learners on EFAW and FAW courses are currently permitted to omit the demonstration of rescue breaths if they prefer although the trainer will continue to demonstrate the theory of this technique.  Learners on Paediatric courses do not have this exemption and must still demonstrate adequate rescue breaths in order to pass the course.
You will be asked to wash/sanitise your hands regularly throughout the course and always before/after any practical work.

 

Waste bins will be set up around the room for safe disposal of waste materials such as face masks, manikin face shields and cleaning wipes.

 
After the course 
Manikin airways will be disposed of and replaced; manikin faces are removed and washed at 70 degrees in the dishwasher.
Re-usable materials e.g bandages will be collected and  washed at a high temperature in the washing machine.
Other equipment such as AED trainers and choking vests will be quarantined and disinfected.
Course paperwork will be quarantined for 72 hours before being processed, which may cause a slight delay in certification.

 

Feedback forms may be sent electronically for you to complete online.

 

You will be asked to wash / sanitise your hands and wear your mask before
leaving the training room.

 

All contact points within and around the building will be sanitised.

 

You will be asked to let us know if you develop symptoms of Covid-19 within 10 days of your course. Your contact information may be shared with NHS Test & Protect if requested. Personal information is handled confidentially and will not be shared beyond this.